Library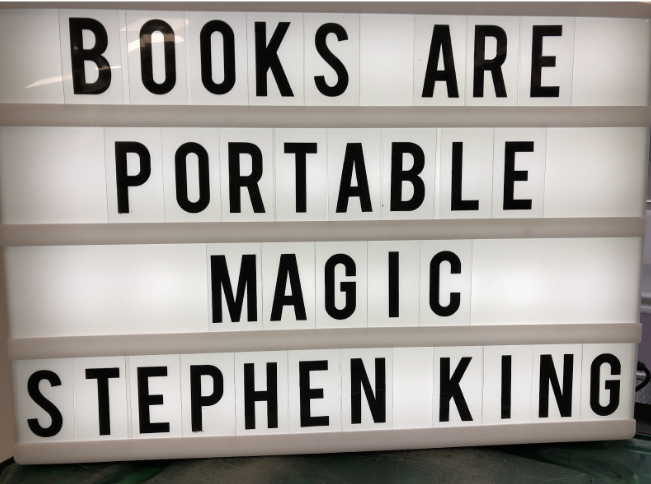 About the Library at Glossopdale School
The Library is a vibrant, attractive area of the school available to students before morning registration and during breaks. It is managed by a qualified and experienced Chartered Librarian and a Library Assistant, so students always have the opportunity to ask for help and advice. The school works with the ethos that "Everything Starts with Reading".
There are areas in the Library dedicated to Fiction, Non-Fiction and Reference books with a wide selection of titles and resources in each section. Every student automatically becomes a member of the Library on joining Glossopdale School.
Both the Fiction and Non-fiction areas have an extensive collection of Accelerated Reader titles to choose from at all levels. There are also specialist collections dedicated to Post 16 students and for younger users. In addition, reluctant and emerging readers are well catered for, and we can provide dyslexia-friendly titles. We tailor-make selections for students to choose from, when requested.
The Library has space for whole classes seated at tables, as well as a set of computers and comfortable seating for students to use throughout the day. Students are taught research and literacy skills to support their learning.
Our resources are all recorded on our Library Management System or 'Catalogue' – Capita Reading Cloud – this is available throughout the College wherever there is access to the internet, and is supplemented by online resources such as Emagazine.
The Library aims to
support students and staff in the process of learning, teaching and personal development, through the provision of high quality information collections and related services.

focus on developing student skills in the areas of finding and using information both in printed and digital formats.

raise the standards of literacy through encouraging students to gain a love and enjoyment of books and reading, with the ability to reflect on what they have read.

​
Reading Week
We have two whole school Reading Weeks per year – the first in November and the second usually in June. Each Reading Week has a theme, an assembly encouraging reading and an accompanying Library competition.
During Tutor Time, our literacy activities concentrate on the joy of a good book. Students in all years are reading books or articles together with their Tutor Groups as a part of their Personal Development program, even when it isn't Reading Week.
The aim of Reading Week is to make reading a focus of the school day for a full five days, and so to promote the benefits of reading for pleasure with the knock-on effects in higher attainment of readers of all ages. Each time we have a Reading Week, a different member of staff presents their take on reading by celebrating their love of books in the whole school assemblies.
For a bit of fun, we have a quiz running all week. Students can take part with their Tutor Group or on their own. In addition, we highlight connections between a well-established reading habit and the breadth of a person's vocabulary, their writing skills, their verbal communication skills, their mental wellbeing, the development of imagination and the ability to empathise with other people in other situations.
We have a slogan for each of our Reading Weeks – recently it was 'Cook up a Good Book'. Students were excited to bring in their book themed home- made cakes. After picking a winner and two runners-up, we sold slices for charity. There is always a real enthusiasm and creativity around books in Reading Week.
We endeavour to encourage reading as much as possible at Glossopdale School and Sixth Form, so whole school Reading Weeks serve to concentrate our focus on the well-researched fact that reading for at least 20 minutes a day is a good habit to nurture.
World Book Day
Every year on the first Thursday in March, we celebrate World Book Day at Glossopdale School and Sixth Form. We actually extend the reading focus throughout the week surrounding World Book Day with an inspirational reading focussed assembly and the distribution the £1 World Book Day vouchers that the World Book Day charity (funded by publishers and booksellers) provides to all school children under the age of 18.
To mark the day, we do things such as decorate classrooms with wonderful handwritten book reviews and beautifully creative illustrations of favourite book characters; our 'big' screens promote reading with reviews of books that staff and students have enjoyed, and many classes throughout the day on World Book Day begin with 10 minutes of reading for pleasure.
Recently, staff struck up conversations around reading by wearing book character badges!
Of course, we display the wonderful posters supplied by the World Book Day website, and encourage students to go out and make good use of their tokens every year. We tell the students a bit about how great each book offered as a £1 book is
The Library runs a fun competition for World Book Day – for example, in 2023 we ran a Food in Fiction quiz. . There are always prizes for the Library quizzes.
Highlighting connections with important days and weeks in the year using book displays:

Library Facilities
Information Literacy: The Library offers lots of helpful advice and sessions to help you learn how to find and manage information.
Online Resources: The Library offers a range of web based information. Please ask the Librarian.
Computers: The computers can be used by individual students during their break and lunch times or free study periods. Please ask at the counter to use a computer for your work.
Study Spaces: Work tables are available for you to study and read at. Please be aware that you are surrounded by students who need the quiet and academic atmosphere of the Library to thrive.
Catalogue Staff and students can use the catalogue whenever they need to search for sources within the Library or online resources. It is web-based - just follow this link:
https://U003886.microlibrarian.net
Enquiry Desk/ Issue Counter: The purpose of the enquiry desk is to address any queries regarding the use of the library catalogue, online resources and finding items you need within the Library. You should also change your reading books here.
Accelerated Reader
The school runs the Accelerated Reader (AR) scheme for all Year 7 students and selected older students. We have an excellent record for promoting reading using this motivational tool and students enjoy reading and quizzing large numbers of books. Students gain a reading level, choose books according to interests and ability and sit online quizzes to show understanding. Rewards and competitions further encourage reading for pleasure. AR happens during a weekly English lesson in the Library and students are set reading targets for homework every week.
Login to ARHomeConnect see your progress so far with Accelerated Reader
Library Information
Opening Hours:
Monday-Friday
8.15am – 3.00pm
Borrowing Information:
Students: 2 books for 14 days each
Staff: Unlimited number of items, one month loan period
To make the Library an enjoyable environment for everyone, we ask all users to adhere to the following:
No food or drink

Coats off

Work quietly: read, study, research, borrow and return books

Mobile Free Zone

No sitting on the floor

Do not move the furniture

Respect the resources
The Library recommends…
Year 10 & 11 Recommended Books