Remote Learning
There will be occasions when you are required to complete schoolwork form home. There are allocated remote learning days at the start of term where you are expected to complete work set online or on paper. It is important that you adopt good habits in order to complete work to the best of your ability and in the event of an unplanned school closure.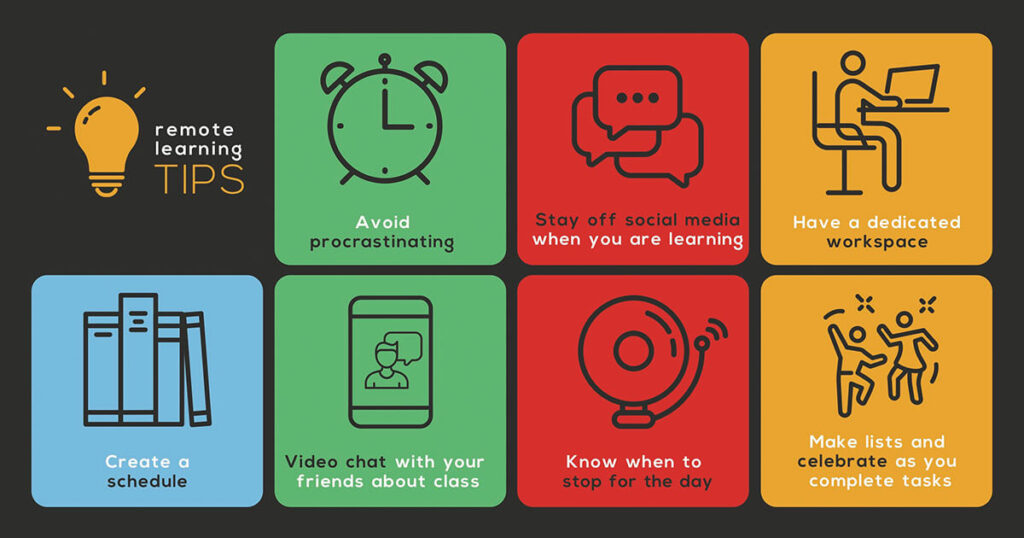 General Advice
Use the ideas below as a guide to help you. With your parents, agree a schedule that suits you and helps you.
If possible, try to create a space where home learning can happen; ideally this will be a flat, clutter free surface, such as the dining table or a desk, near a computer. If you do not have internet access, the school will provide you with work on paper. A variety of online and paper work is advisable.
Try to stick to the timetable that you would have at school that day, breaking the day into manageable chunks.
Use our online resources to help with study skills: have a look at the Home Learning and Revision pages of the Student section of the website.
Your Daily Routine
It is widely accepted that young people need routine in their lives. A structure to the day improves mental health, provides comfort and feelings of safety and reduces anxiety. The need for structure and routine is even more important in times of uncertainty such as these.
There are many examples to be found online of daily routines for families and young people. As well as time for Home Learning, a daily schedule could, and often should, include the following:
Exercise and Outdoor Time
More and more of us are joining online exercise classes and some of us have home gym equipment, however, at this point in time, we are still allowed outside! Making sure that young people release their energy is crucial so try to factor in two opportunities a day for this. While keeping in mind social distancing parameters, activities could include walking (with or without a dog), cycling, or gardening.
Creative Time
You also need time to be creative. Activities away from screens, that are not focussed on the academic side of learning, can develop skills needed and to be enjoyed in other areas of life. They could include playing games, baking, cooking, arts, music or craft activities.
Quiet Time
Even if it is for just half an hour a day, an activity away from screens such as reading or drawing, will not only help improve literacy or concentration levels, but will provide a sense of calm, thus supporting good mental health.
Staying Safe
Mental Health & Wellbeing
Please also see the Mindfulness page of the Student section of our website:
https://www.glossopdale.derbyshire.sch.uk/Mindfulness/
Kooth
Kooth is a free online Mental Health and Wellbeing resource for children and young people in Derbyshire that requires no formal referral, instead only requiring the user to set up an account on the website. Available 365 days of the year via mobile, tablet and desktop devices from 12 noon to 10pm Monday-Friday and 6pm-10pm at weekends, the service provides access to accredited counselling support, peer support via online forums and relevant articles detailing a variety of topics.
To sign up, please visit www.kooth.com/
Online Safety
While you are working online, please do it sensibly and safely.
Click here for more advice: